for everyone you meet is fighting a harder battle. -Plato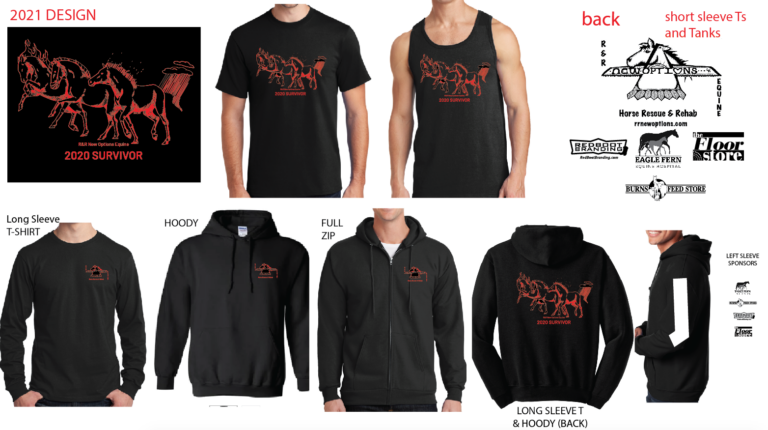 Tee shirts:$15 Tanks:$18 Long sleeves:$20 Hoodies:$30 Zip-Ups:$35

Orders can be placed through Facebook, email (rrnewoptions@gmail.com), or by calling Aunt Les at (503) 312-1440.

ORDERS MUST BE MADE BEFORE THE END OF FEBRUARY
*Prices are subject to change depending on how many orders we receive.
Our mission is to supply a safe, secure, nurturing environment for equine and persons in need, whether that need be physical, mental or spiritual.  The goal of New Options is to foster confidence, work ethic and a sense of accomplishment in disabled, disadvantaged and disempowered youth by teaching them to participate in the care, training and rehabilitation of abused and neglected horses. 
We are an entirely volunteer run organization. As such, all funds acquired are applied to the care of our horses, the organization, facilities and equipment. 
**Please send your email address to rrnewoptions@gmail.com if you would like to receive our monthly newsletter**
THANK YOU TO OUR SPONSORS
for helping us making the world a better place, one horse, one person at a time.
We SEE Horses and People Heal each other EVERY DAY
We are not
the only ones....
Check out this article in Parade Magazine
"Horses have the special ability to make you be totally in the moment, making talking about the trauma I went through so much easier and less painful"

"research shows that horses are acutely tuned in to human emotions"

"just looking at his mane and back of his head and, I don't know how else to say it, I just had this deep sigh of relaxation and in a split second knew that everything would be OK, which hadn't happened for years"